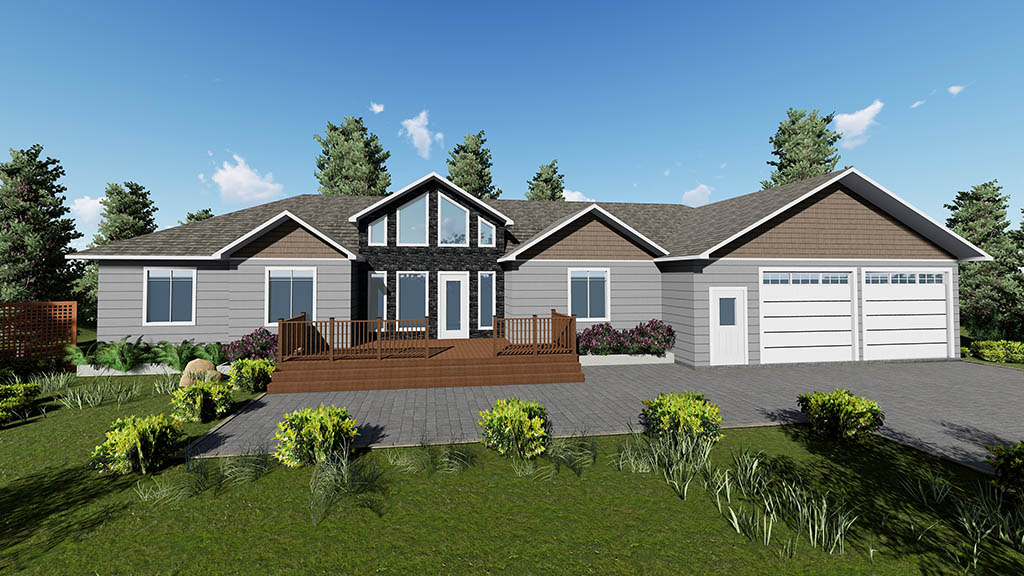 This is a larger house at 1827 square feet and has 3 bedrooms, 2 baths, and an ensuite with a shower and a soaker. There is stone work on the front, which extends to front steps as well as back steps — great curb appeal.
From our designer Sharon Bailey: "This is one of our most popular home designs of 2018 so far. I love the depth in the roofline. From inside the living room the wall height is 12 feet, then vaults, and then with rake head windows at both ends — it looks grand. The home is very well designed by the customers. There is also some custom design where the customer designed a make up counter in the vanity."
This home has a fantastic kitchen, big pantry, and the laundry in the mudroom which is closed off with doors. The staircase leads to the basement which has more bedrooms and a rec room. There is also lots of closet space in this house.
Square Feet: 1827 Sq. Ft.
Bedrooms: 3
Bathrooms: 2

Type: RTM or Onsite
Style: Bungalow
Vault: Yes

Please browse the plans on our site for home ideas, but keep in mind that most homes shown have been altered to meet the specific needs of our customers. Any design shown can be customized to best fit your needs.
---
Walkthrough Video
---
The Somerset Plans
---
Photo Gallery