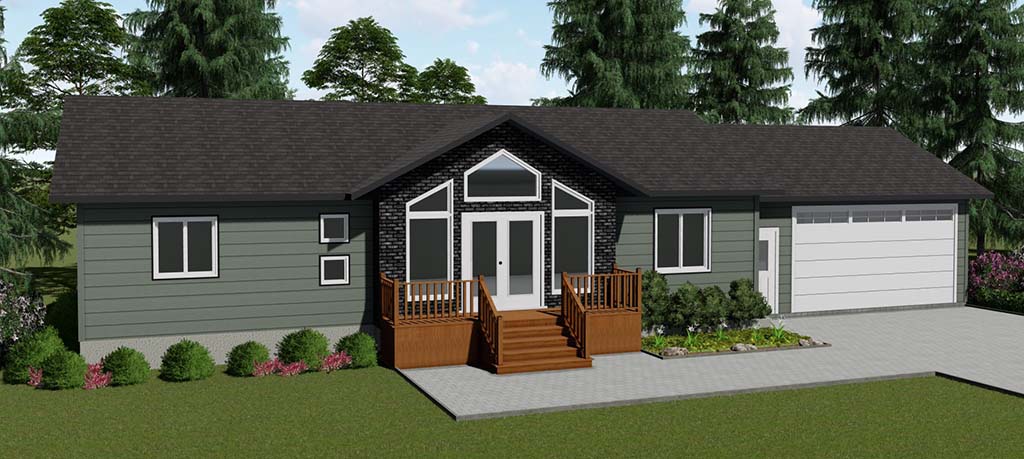 From our designer Sharon Bailey: "This home was originally designed as a show home in 2018. We chose this design for our show home because; it's one of the most popular designs when people come to us, and it's a decent size house but not too large, which keeps the cost down."
We made this home with our standard finishes and the following custom upgrades; the stone on the front, the tile backsplash in the kitchen, shower doors, and the pot lights.
Featured on the exterior is Willow Green siding and we added black soffit and fascia with slim black trim around the siding. All of these things are standard options with our homes.
The home currently designed for a set of stairs to a basement. If customers choose to put the home on a crawlspace this space could be turned into another room — such as the laundry room or storage
The vaulted living room flattens into the kitchen and dining room, however this house has previously been designed (Michigan 1) to have the vault running straight thru the dining room with the upper windows on both the front and back.
The kitchen has Thunder Maple shaker cabinets, and the sink and dishwasher are in the island. Its nice to have a pantry in every kitchen. It saves on the costs of cabinets and it gives you tonnes of room. It allows you to see everything rather than having to look thru cabinets for things.
We went with a chrome theme as chrome is making a comeback. There are chrome light fixtures and chrome pulls on the cabinets.
We installed LED puck lights in the kitchen instead of potlights, this keeps the price way down saving over $55 a light.
All the bedrooms are carpeted, again to help keep costs down. The walk-in closet is basic, but not too small. The ensuite cabinets are white Thermafoil instead of the maple thunder. White on white is also a big thing these days. There is a linen closet built-in, and a five foot shower with clear glass pivot doors.
As is standard in most to our homes, the spare bedrooms are 10×10, with closets, and the main bathroom is basic — but very functional.
Square Feet: 1362 Sq. Ft.
Bedrooms: 3
Bathrooms: 2

Type: RTM
Style: Bungalow
Vault: Yes

Please browse the plans on our site for home ideas, but keep in mind that most homes shown have been altered to meet the specific needs of our customers. Any design shown can be customized to best fit your needs.
---
Walkthrough Video
---
The Michigan 2 Plans
---
Photo Gallery