Square Feet: 1465 sq. ft.
Bedrooms: 3
Bathrooms: 2

Type: RTM or Onsite
Style: Bungalow
Vault: Yes

We are only taking this home to the finished drywall stage and the siding is being finished onsite after the move. While we generally completely finish our homes — we are more than willing to take the home to any stage our customers want. Another Bailey Homes custom advantage!
This home is being build for a great couple — and the house is going to be rustic ranch style when its all said and done. There will be a lot of elements inspired by their horses and farm.
The exterior is setup for the siding to be done once onsite. It's been a challenging year with Covid-19 and trying to get material in, so the customers have decided to do the siding onsite. The siding will be an engineered wood siding from TIAGA RUSTIC SERIES.
The customers are going with a dark theme throughout. They decided to have the windows on the front of the home with black frames instead of the standard white. The doors on the front and side of the house were factory painted chestnut brown with verso glass inserts. On The back of the house they left the windows white to keep the costs down. no one sees the back anyway, and it's a really Great way to keep costs down.
This is another house with a vault running straight through and also has a prow — vaults and prows are big this year.
There is a small entrance, but it will just be for company as the home owners will rarely use it. This will keep square footage down so they can add more to where they need it.
The kitchen was also included as they live in a rural area, and some things are more challenging to get. The cabinet doors and drawers are flat panels which makes cleaning really easy.
For the finishing, while you can't see it now, they will making it very colourful, nothing white going in this house. They have already made some pretty cool light fixtures out of yokes from the horses. We painted the ceilings a brown / beige color and prepped the ridge of the vault to be wrapped in some rustic barn wood. We even made sure the potlights were brown.
Please browse the plans on our site for home ideas, but keep in mind that most homes shown have been altered to meet the specific needs of our customers. Any design shown can be customized to best fit your needs.
---
The Margate Plans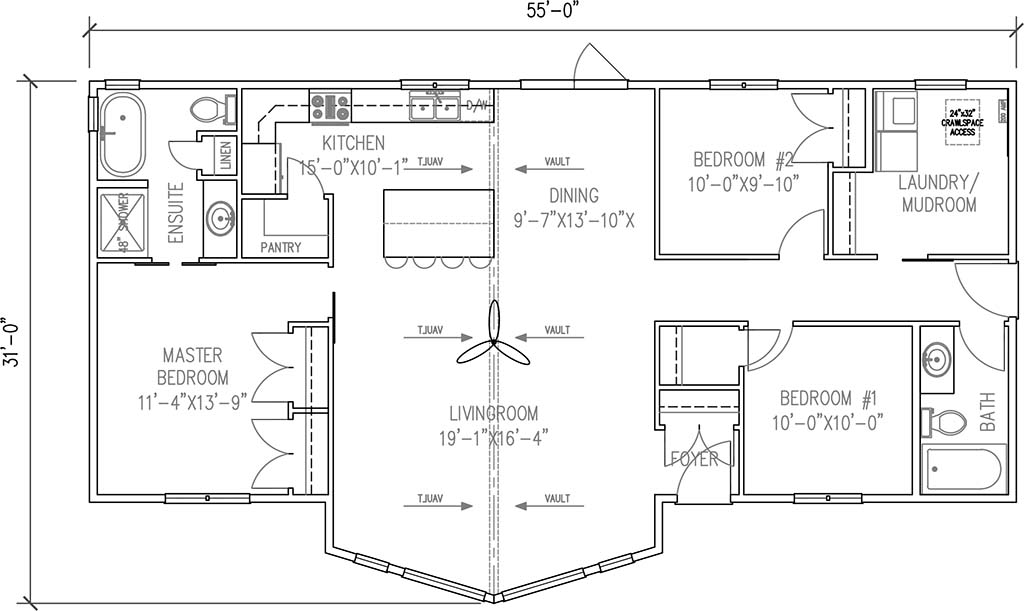 ---
Photo Gallery