The 1854 square foot Jenkins model is a bungalow with a vault from front to back of the home. It has a full walk-out basement — making it almost like having two storey house. We are bringing the grade up partially into the floor joist area and waterproofing so they are can walk into the house from the front, back and the garage.
From our designer Sharon Bailey: "There are a couple of very unique choices the customer has made with our Jenkins model. The staircase has two landings, which takes up extra space but will look really nice. In the kitchen there is really large peninsula, and they won't run out of space when cooking."
The kitchen has a double fridge and freezer area with countertops on each side and shallow pantry against wall.
The master bedroom has angled walls and a tray ceiling and is designed without closets are the customers are adding IKEA closets afterwards. The ensuite is all custom with tile in the tub shower and glass doors.
There are two French doors leading into the sitting room that will be later turned into a nursery. In the four-season room customers are adding a hot tub.
Square Feet: 1854 sq. ft.
Bedrooms: 3
Bathrooms: 2

Type: Onsite Only
Style: Bungalow
Vault: Yes

Please browse the plans on our site for home ideas, but keep in mind that most homes shown have been altered to meet the specific needs of our customers. Any design shown can be customized to best fit your needs.
---
Video Walkthrough
---
The Jenkins Plans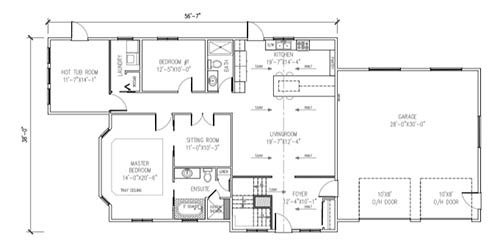 Download Plans for the Jenkins (PDF)
---