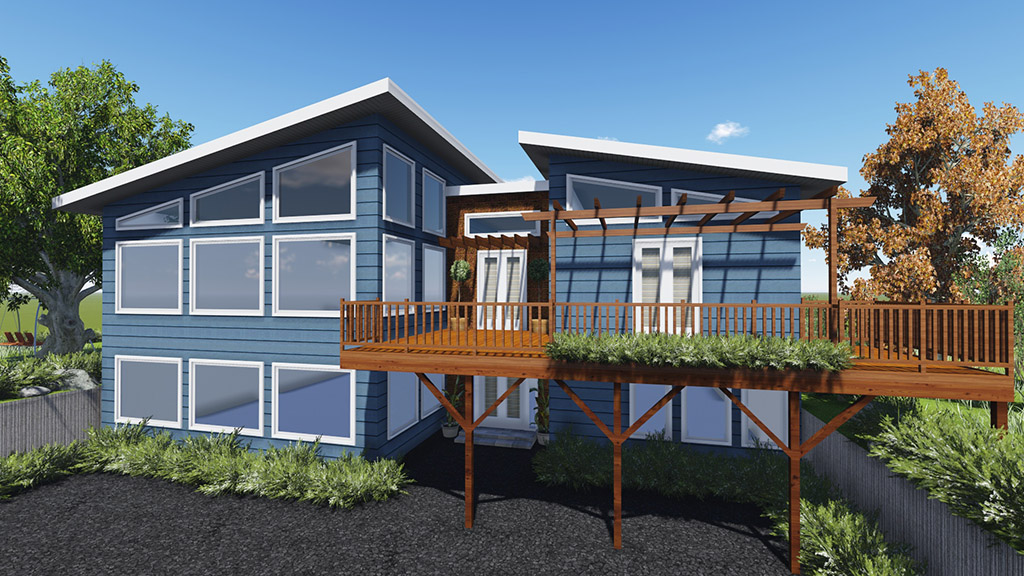 This 1509 square foot home has one bedroom, a luxurious master bedroom with his and hers walk in closets, a separate toilet room, and a soaker tub to look out windows. In the bath it has a nice big shower with his and hers vanities.
Other features include a walk-in pantry, fireplace, laundry/bathroom — everything you want on the main floor.
It's designed for a walk out basement, so it's like another floor in the house. At the back of the house you could be two feet out of the ground, while at front of the house you're 9' 4", the new trend in basements. You have a full second floor on one side of the house, but on the back you don't have all those stairs. You can add two or three bedrooms in the basement, and it's perfect for the cottage.
From our designer Sharon Bailey: "Bailey Homes is trying to update the look of some of its lines and do some modern takes. We have not built one yet, but we're designing some modern single sloped houses. I love the roof line, I love the curb appeal — it's very modern."
Square Feet: 1509 Sq Ft.
Bedrooms: 1
Bathrooms: 1 1/2

Type: RTM or Onsite
Style: Bungalow
Vault: Yes

Please browse the plans on our site for home ideas, but keep in mind that most homes shown have been altered to meet the specific needs of our customers. Any design shown can be customized to best fit your needs.
---
The Clayton Plans