At Bailey Homes it's important that we get our customers the exact home they want, taking their design wishes into account. The Bellingham RTM is a prime example of one of our custom homes designed to specific customer needs.
From our designer Sharon Bailey: "Customers had very specific ideas with this home and it's going to have a drop-down foyer that is being built on our site. This should make it interesting for the movers. In the foyer there is the laundry room, and onsite it will drop down into another foyer with a garage and a half-bath there. It's a little different design."
This is basically a two bedroom house and the RTM portion of the home is 1478 square feet. The interior is fairly standard for Bailey Homes, with the main area vaulted with rake head windows front to back. Our customers really like having all that light in their homes.
The master bedroom has an ensuite and a walk-in closet. The other bedroom has a main bathroom next to it.
The kitchen has a 7-foot island for eating at and there is also a big pantry that will have the fridge and freezer in it.
Off the dining room the customer are building a fancy desk area. Customers are also having an electric fireplace installed in their living room, it will be a great place to gather around in the winter.
In addition the garage being built onsite the customers will also be adding a covered deck and look forward to sitting out there in the summer months.
Square Feet: 1478 Sq. Ft.
Bedrooms: 2
Bathrooms: 2

Type: RTM or Onsite
Style: Bungalow
Vault: Yes

Please browse the plans on our site for home ideas, but keep in mind that most homes shown have been altered to meet the specific needs of our customers. Any design shown can be customized to best fit your needs.
---
Walkthrough Video
The Bellingham Plans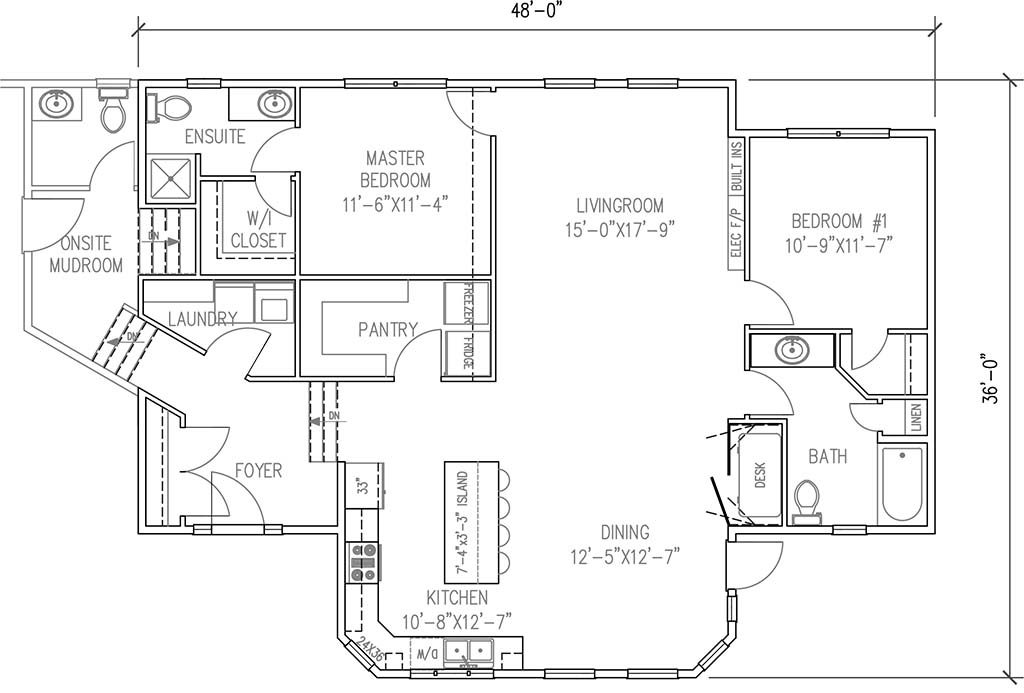 Download plans for the Bellingham (PDF)